Visionary Author michelle stevens
Paperback "Reinventing Your BadAss Self" Coming Soon Fall 2023
Now Available on Amazon Kindle, it hit #1 in three categories it's first 2 weeks!!!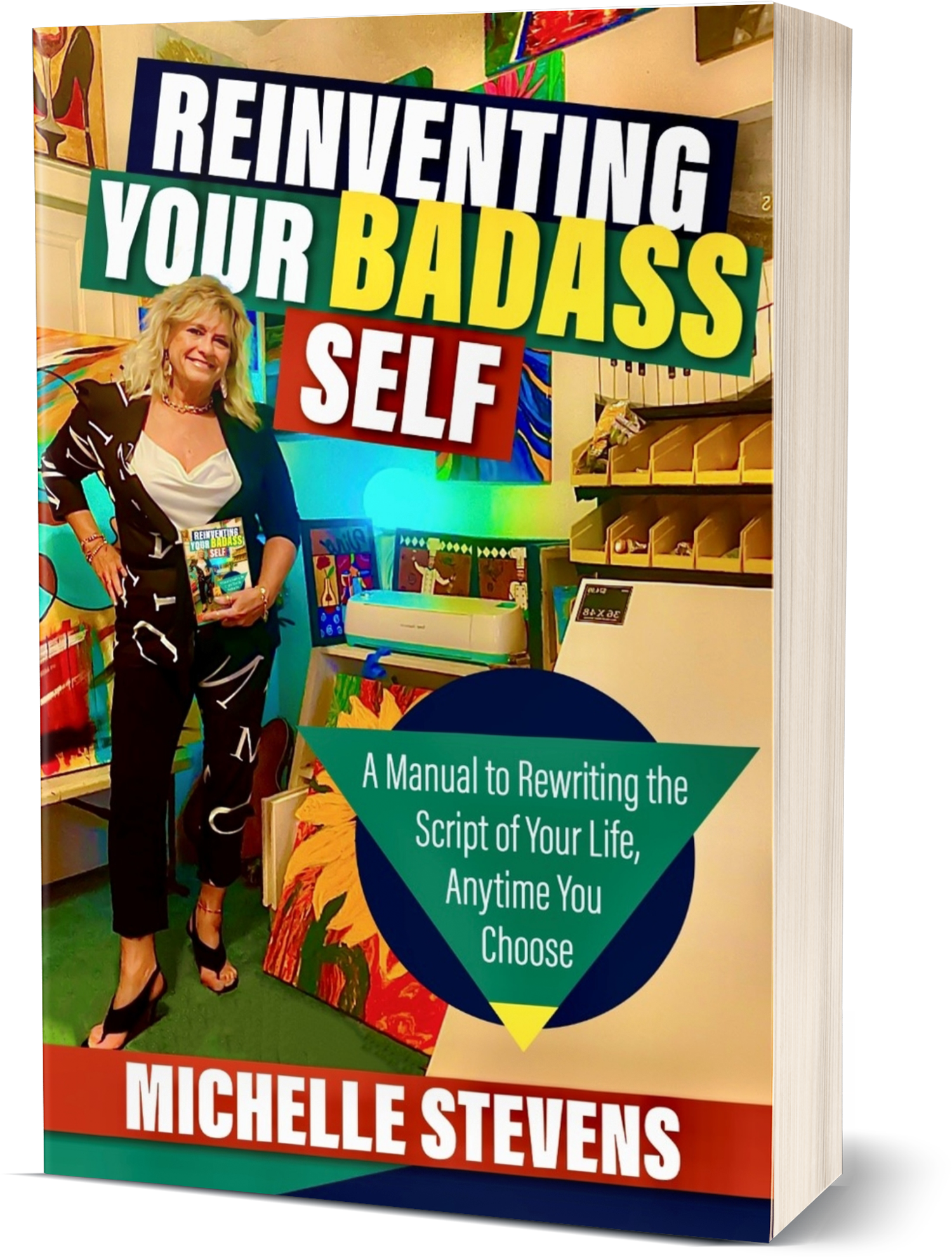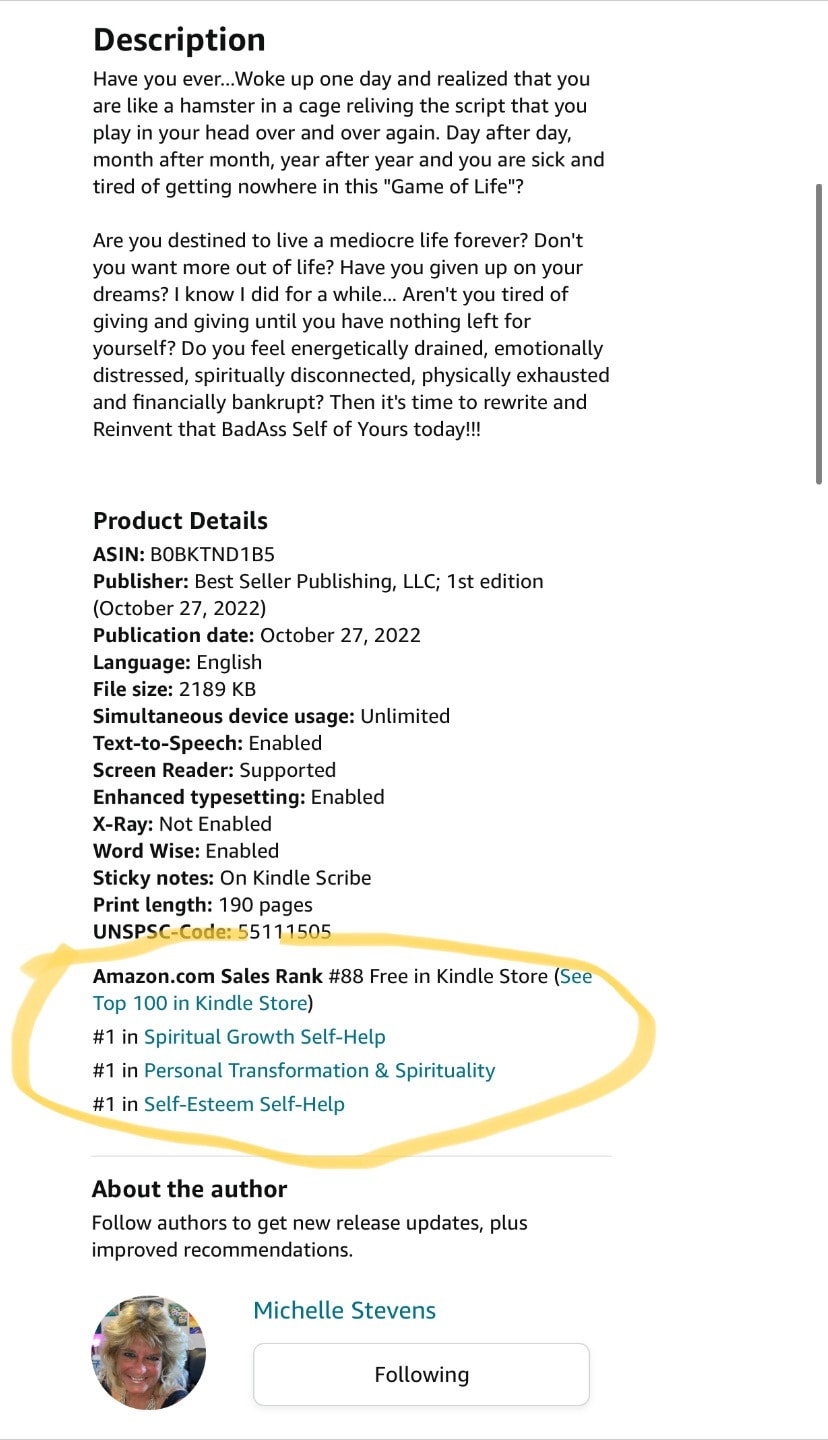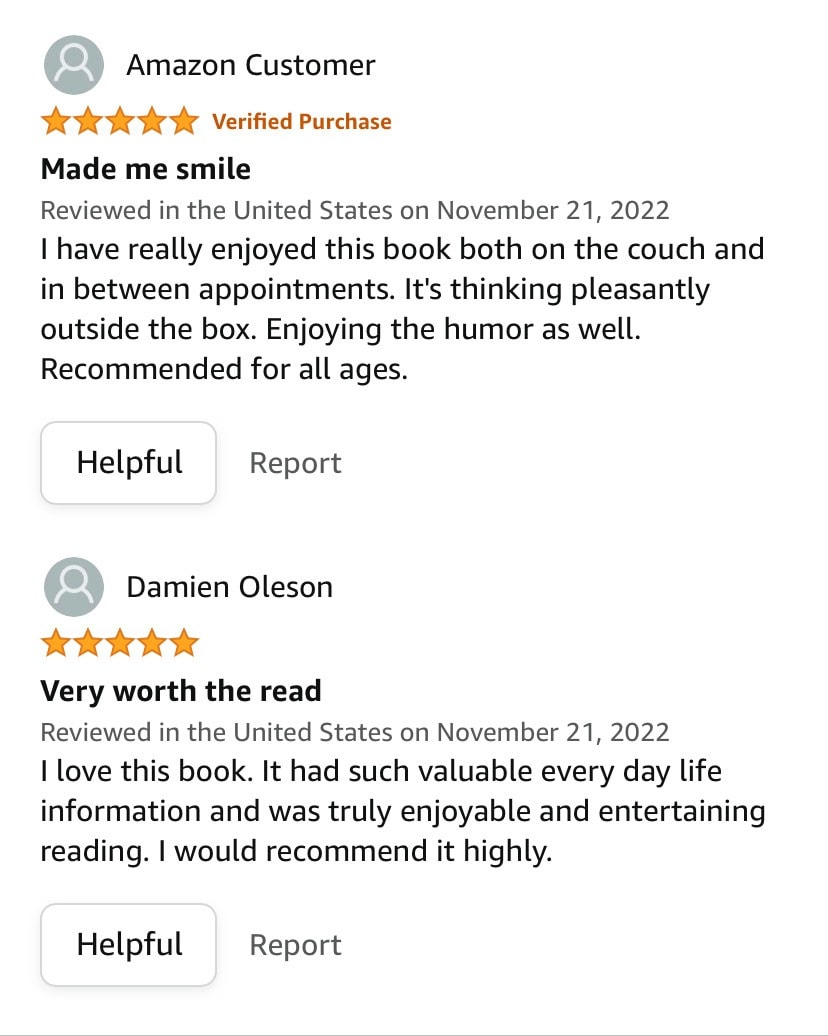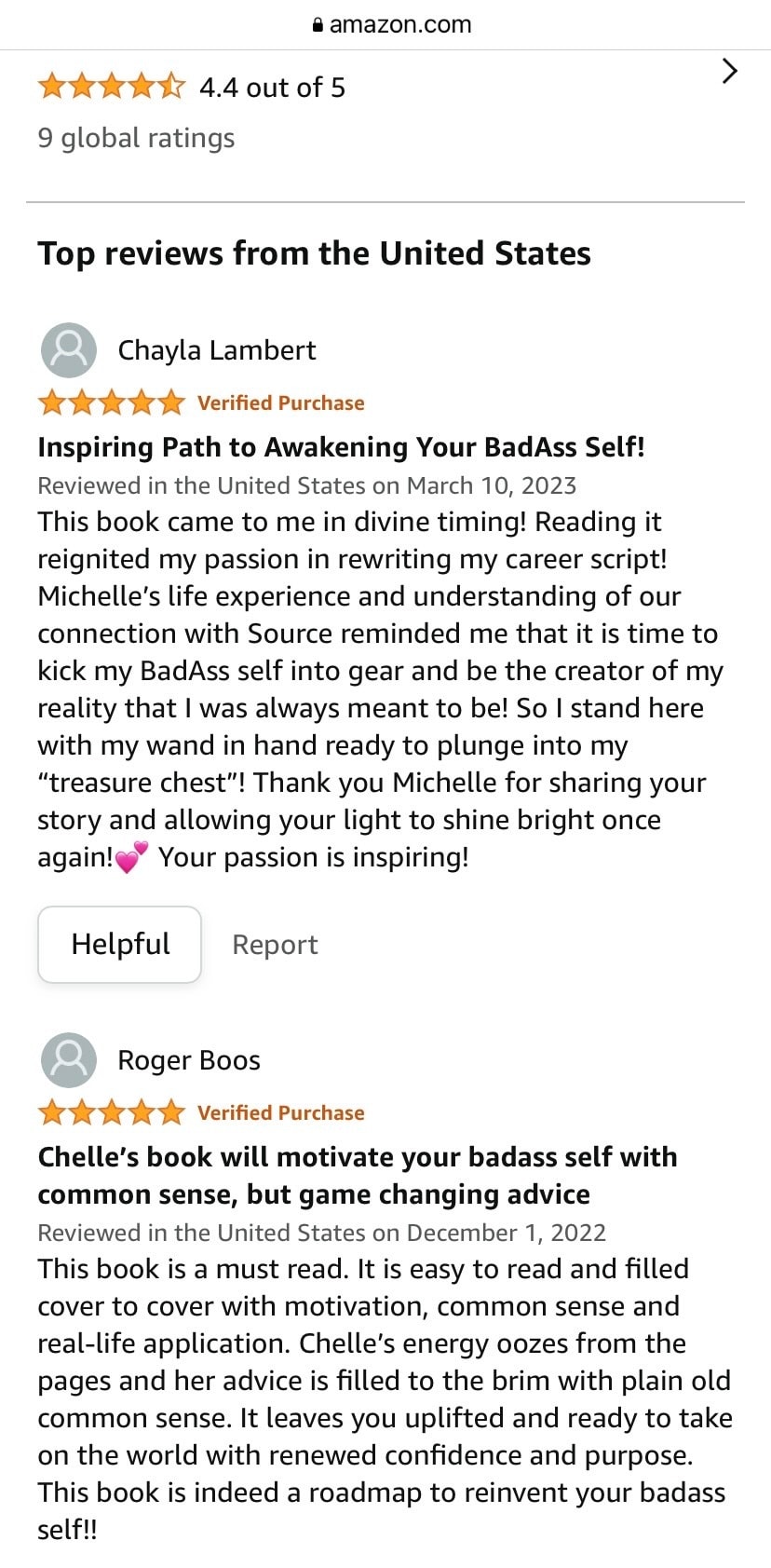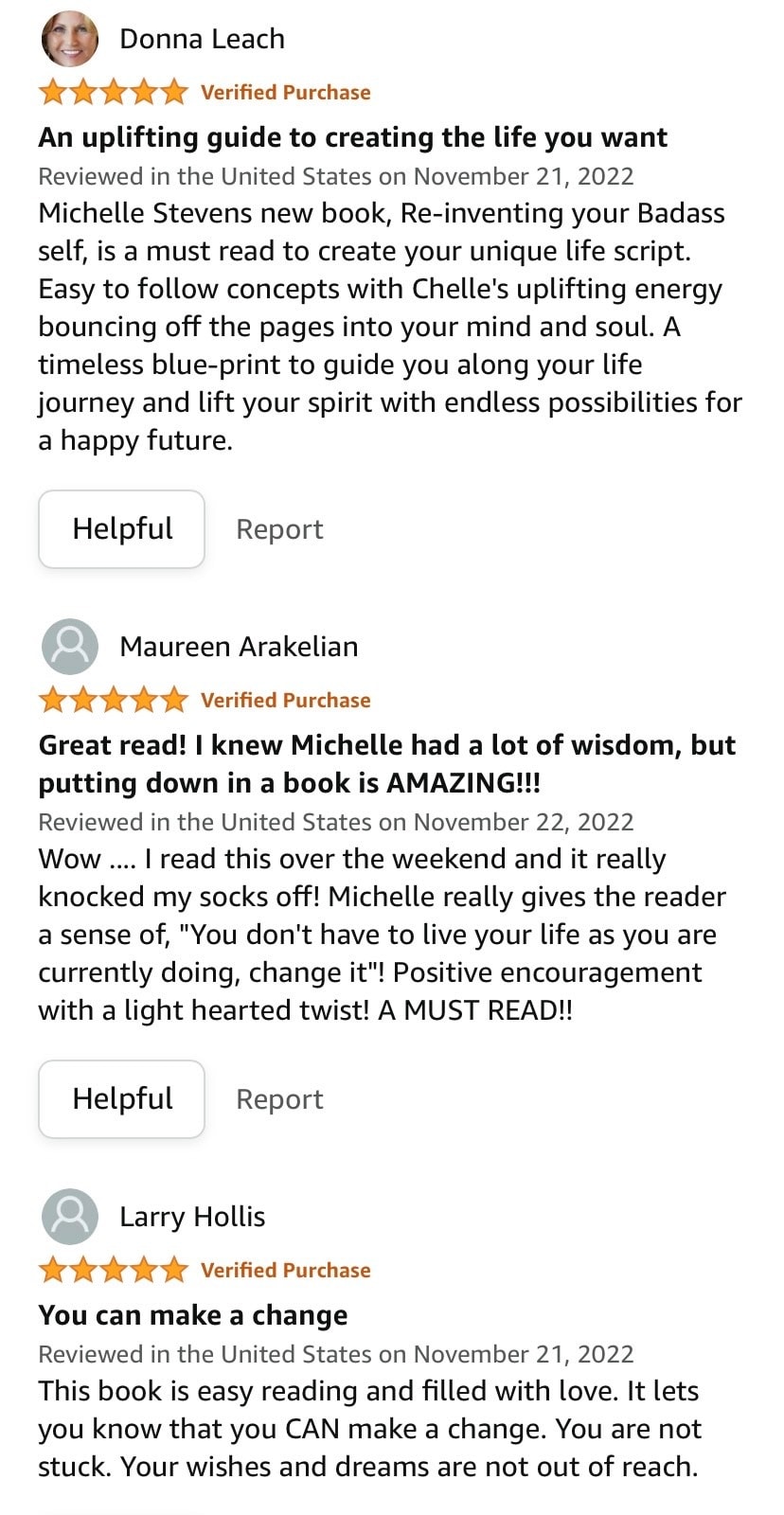 Woke up one day and realized that you are like a hamster in a cage reliving the script that you play in your head over and over again, day after day, month after month, year after year and that you are sick and tired of getting nowhere in this
"Game of Life"???
This epiphany moment came when I realized that "Trying to put a BadAss Powerhouse in a cage is just plain Wrong!"
Your Freedom BEGINS NOW
Are you destined to live a Mediocre life forever?
Life is too short, Have some fun!
Don't you want more out of life?
Have you given up on your Dreams?
I know I did for a while...
Aren't you tired of giving and giving until you have nothing left for yourself?
Do you feel as though you are energetically drained, emotionally distressed, spiritually disconnected, physically exhausted and financially bankrupt?
It's Time to Take Back your FREEDOM and STOP giving away your Power, Talents, Time and Energy. The same Power that we were all given as our Birthright from
Our Creator!
Are you Ready to Reinvent Yourself with Grace, Ease and Non-Resistance?
My Intention is to gently guide you to own your True Divine Power, so you can live your Best Life.
~Happily ~ Freely & Unapologetically~
A
If you are ready to Show up and Stand up for yourself and speak your TRUTH like you have never done before...then let me help you by teaching you a whole new

BadASS Mindset.
To do that, you need a mentor who has the experience, knowledge and the Heart to Love You,
Guide You,
& Be Honest with You.
I'm here to help Visionary People like myself to Connect your Human Mind with your Divine Spiritual Mind.
This is where all MIRACLES exist.
This is where the Transformation takes place.
This is your Inner Being calling YOU to make the connection...
This is where ALL your wildest dreams can manifest for You.
It is right at your Fingertips.
You don't have to Croak and wait until you reach the "Other Side" to get your Treasure...
Your Treasure in Heaven, is right here on this Beautiful Earth to enjoy Now.
Our Creator made Heaven here on Earth for Us, my Brothers and Sisters.
Don't let anyone tell you that you cannot Be, Do or Have anything your Heart Desires because YOU CAN!
As soon as you Connect with Your Inner Being and Vibrate at the same Frequency, Everything you have desired will become a Reality, like it did for me.
Buy my book and I promise you that you will not be disappointed only
Enlightened.